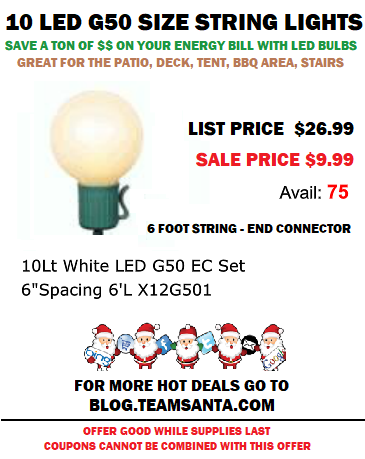 DEAL009: 10 LED G50 Globe White C7 Socket Christmas Light Set Green Wire
Welcome back to our continuing series of what has been some very special DEALS.  Three of our websites are accepting the current coupon code which is "socialmediasale20" (no quotes, no parenthesis). Using that coupon code will save you 20 percent off your order total. However, BIG NEWS, our fourth website teamsantadeals.com does NOT accept coupon codes. All prices on teamsantadeals.com are the net prices and there are no further discounts.
Now on to Deal 009 which is fabulous. It is also practical in a sense that Deal 009 can be used all year round. Especially in the summer where they are great when used to light up communal areas at your home or business. Whether you are camping or hanging out on your deck, these lights are perfect to add inexpensive soft light to the area.
The G50 size lens is approximately 2.5 inches and they hang with the round part pointed down. Each lamp looks like a jumbo globe light.
G50 sized patio string lights will provide evening light without having to spend a lot of money to do it. Equipped with LED bulbs, they use only a small amount of energy,  so your bill from the energy company will be much smaller too. Each string will cost you zero by year two. That's how much energy the patio lights will save you in dollars and cents.
If you have a pooch like I do, you'll want to provide adequate light in the yard when Fido has to go "out". You also need adequate lighting on your deck or out on your patio.  Don't limit yourself. You can use the patio string lights to illuminate and light up your BBQ area outside the house. You can use the LED lights to light up the sitting area around the pool. Why not hang a string above your pool table too. That will look awesome. Decorators, you are only bound by your imagination.
In today's DEAL you are getting LED G50 Size String Lights 10 bulbs per string. The string has a list price of $26.99. The product is online now so you can see for yourself. You are buying today for less than $10. This is the time to stock up before they sell out. Remember, offers are only good while supplies last and there are no rainchecks. Coupon codes issued by Team Santa Inc. are not eligible to be used on teamsantadeals.com.
Support our troops and the planet too. God bless America. Team Santa Inc. All Rights Reserved World Wide 2018
Happy Decorating!
-Team Santa Inc.
www.teamsanta.com

A Team Santa Inc. Web Store
Please feel free to share and re-tweet our posts!