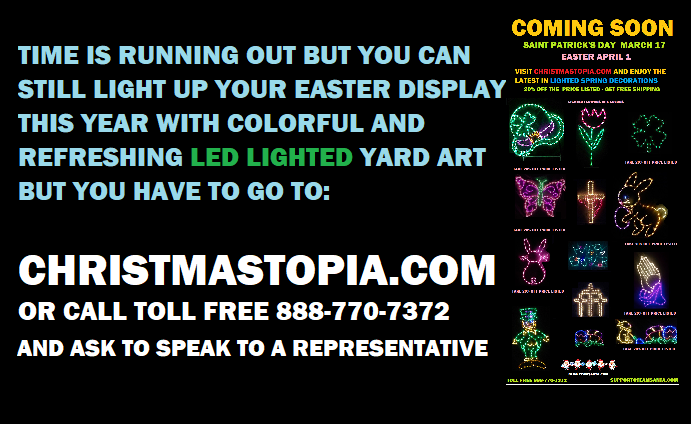 With Easter 2 Weeks Away Try Decorating Around Your Property With Our Lighted Easter Decorations
Greetings Decorating Enthusiasts –
Did you know that you can decorate for Easter in a manner consistent with that of Christmas?  What I mean to say is, that you can enjoy decorating your home or business for the Easter season just as you did during the Christmas season. Maybe not decorate as crazy as you did at Christmas, but one or two lighted Easter decorations wouldn't hurt and we bet you'll thank us.
Click on the link to see our selection of  lighted Easter decorations.
Our selection of Easter inspired lighted yard art is really nice. Each decoration has premium quality LED string lights already installed.  These high quality decorations are made in America so they are not flimsy like some made overseas. It's probably a good idea to support made in USA products whenever you can.
Each lighted Easter decoration is made using a quarter inch steel frame, which is painted shiny white and is designed immaculately. The lighting is installed using LED technology. The colors are incredibly vibrant and the bulbs are incredibly bright, but not too bright.
It gets better! The decorations are also 20 PERCENT OFF the price that is listed, so you are saving $$. If that wasn't enough there is still more. How about FREE ground shipping via FEDEX? 😎  So that's 20 percent off plus FREE ground shipping via FEDEX. Even the Easter bunny thinks it's a great deal. We can ship right away so you have it in a few days.
When your neighbors see these lighted Easter decorations, they will thank you too. Everyone in your neighborhood will benefit because you will be making a positive impact on the neighborhood by making it nicer looking in the evening.
You can decorate on the inside of your property or on the outside. Put an Easter decoration in your window and let it shine for all to see. Each decoration will also look fabulous on a railing, deck, terrace, garage, in the yard, on the house, or inside a home or business. I am sure there are at least another 100 ways you can use the Easter decorations that I did not even mention.
Click on the link to see our selection of  lighted Easter decorations.
Please give these lighted Easter decorations some serious consideration. There is a real good chance that you will be glad that you did.  😎
Until next time..
Happy Decorating,
-Team Santa Inc.
www.teamsanta.com

A Team Santa Inc. Web Store
Please feel free to share and re-tweet our posts!

Team Santa Inc. All Rights Reserved World Wide 2018