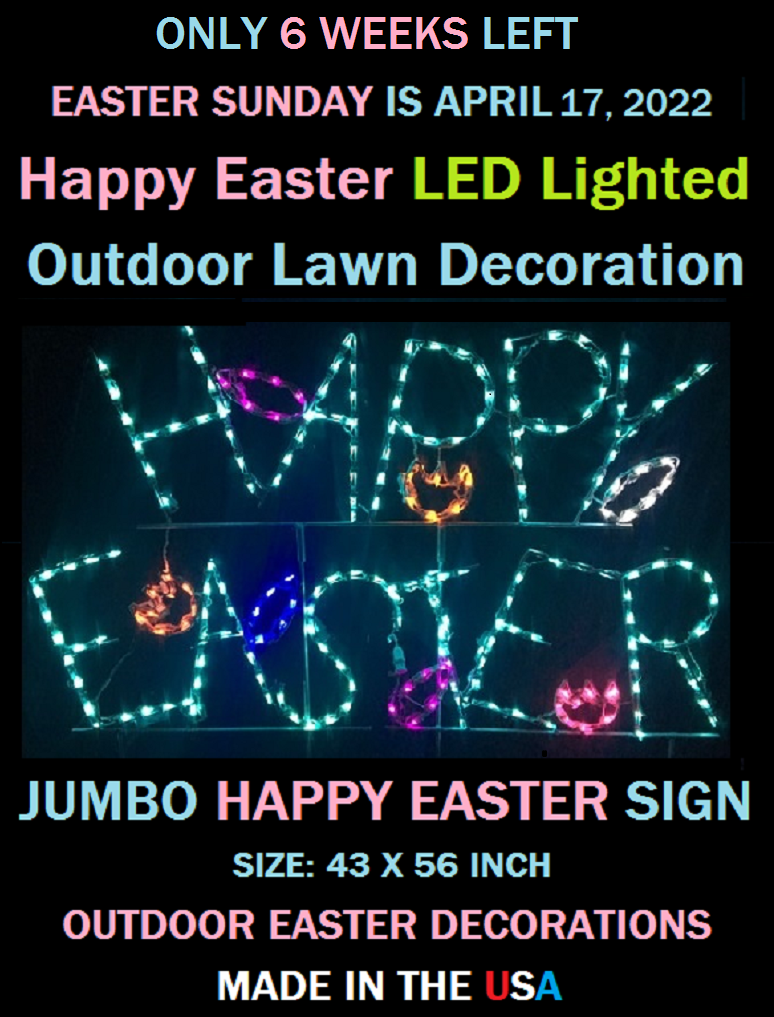 Jumbo Lighted Happy Easter Sign
Greetings Decorating Enthusiasts Everywhere!
Today, we are going to shine the spotlight on a lovely new lighted Easter decoration. It's our Jumbo Lighted Happy Easter Sign. This springtime decoration is absolutely adorable. The words "Happy Easter" are clearly outlined in super bright high quality custom made LED string lights.  While this sign can be seen from a distance, it's much more enjoyable seeing it up close.
You can hang the decoration and/or place it free standing in the ground. It looks great hanging on your railing or on the front lawn. Use it in your business. It's a great decoration to use as a visual merchandising vehicle to pump up your sales. You can use it just about anywhere there is a socket for the plug. The decoration is A/C  110 volt. Because the string lights are LED, the
lighted Happy Easter decoration
uses hardly any energy at all.
The sign is made on a steel frame for both indoor and outdoor use. It makes a wonderful spring time lawn decoration. The sign measures 43″ x 56″ so it really makes an impact on those who see this new Easter decoration. The lighted Happy Easter decoration is crafted on a steel frame with high quality LED string lighting which comes pre-installed. We build the decorations right here in the USA.
You can wish everyone who passes by the sign, a "Happy Easter".  The sign is also ideal for a window display, inside a home, store, bar, restaurant or simply hang it just about anywhere that you want, to wish those who see it, a happy Easter holiday.
The Happy Easter Sign is just one of the neat
Easter decorations
Team Santa Inc. has to offer for Easter in 2022. Please come by and take a look at the lighted Easter decorations that Team Santa Inc. has for sale. Even if you are not placing an order, please feel free to send Team Santa Inc. an email, just to say "hi". We absolutely love to hear from the folks who visit our Team Santa Inc. websites.
Questions and comments are always encouraged. Send an email to support@teamsanta.com We will get back to you ASAP. Spring will be here in less than 2 weeks. Kick off the season right with one of our outdoor lighted Easter decorations. We'll see you again real soon!
Warm Regards,
Team Santa Inc.