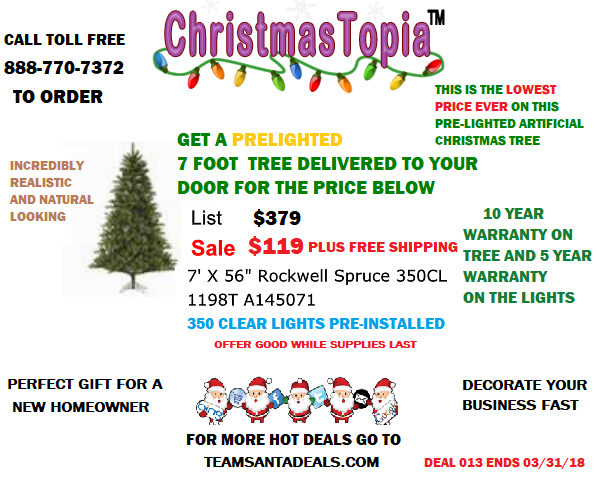 DEAL 013 You Can Now Literally Own Your Own Piece of The Rock, Not Kidding Get A Rockwell Today
Hello Decorating Enthusiasts –
Do we have a special Deal 013 for you? Is anyone out there looking for high quality pre-lighted artificial Christmas tree? If so, then look no further TeamSantaDeals.com has brought you the "ultimate deal". That's right, our tree is 7-foot-tall prelighted tree has 350 high quality clear Christmas lights PRE-INSTALLED on the tree. We're talking about the prelighted Rockwell Spruce.
The needles on the branches are so natural looking that you cannot tell the difference between the Rockwell Spruce and a live tree. This is serious stuff folks. This tree is phenomenally real looking.  The Rockwell Spruce is also incredibly realistic both visibly and to the touch. It's amazing what they can do with machines these days. The tree comes with its own high-quality tree stand (does not add any height to the tree) and the tree itself has a 10-year warranty and there's a 5-year warranty on the lights. You know a product is high quality when you get that type of warranty.
This prelighted artificial Christmas tree can be yours for only $119 delivered to your door inside the continental US. Shipping via UPS or FedEx. The tree sells for a list price of $379 on Christmastopia.com. That's more than a $250 difference. There are 9 of these trees left so if you want one you can order it at –  TeamsantaDeals.com ASAP.  This is your chance to score big, offer ends 03/31/18.  Offers are only good while supplies last.
Until the next time,
Happy Decorating!
– Team Santa
www.teamsanta.com