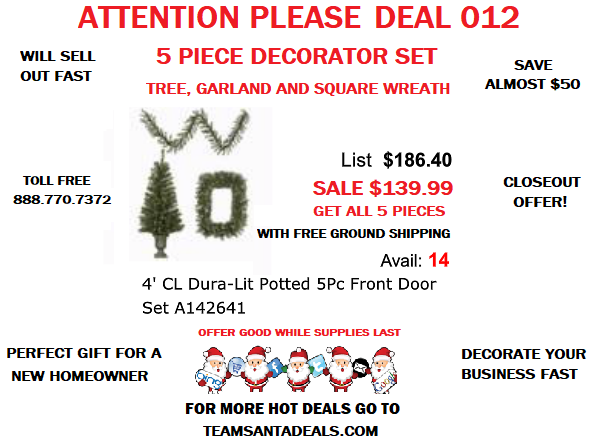 DEAL 012 Delightful Trio of Christmas Decorations are Absolutely Perfect for Holiday Decorating See For Yourself
Greetings Decorating Enthusiasts –
We have a splendid new deal to share with you today. This deal includes five decorations for one low price. You get 2 prelighted trees, 2 pieces of 9 feet of garland and a square wreath all for the extremely low price of $139.99. This is a tremendous value on holiday related merchandise.  You can add these items up individually and see that you are SAVING a HUGE amount of GREENIES when you order this Deal 012.
Use all five products BOTH indoors and outdoors so your decorative options are absolutely endless. Not only do you save a ton of cash on the deal by itself, but you ALSO get FREE ground shipping right to your door. Is that great or what?
The set of decorations is a perfect new home gift or why not use it to decorate a business? The products are an extremely versatile set of holiday related decorations.
Don't kick yourself later when the price is twice as much. Order now and save money. After all that is the plan isn't?
Please remember coupon codes are not eligible to be used with this offer. The $139.99 is the final price delivered to your location. Offer is only good while supplies last.
Until next time,
Support our troops and the planet too. God bless America.
Happy Decorating!
-Team Santa Inc.
www.teamsanta.com

A Team Santa Inc. Web Store
Please feel free to share and re-tweet our posts!
Team Santa Inc. All Rights Reserved World Wide 2018