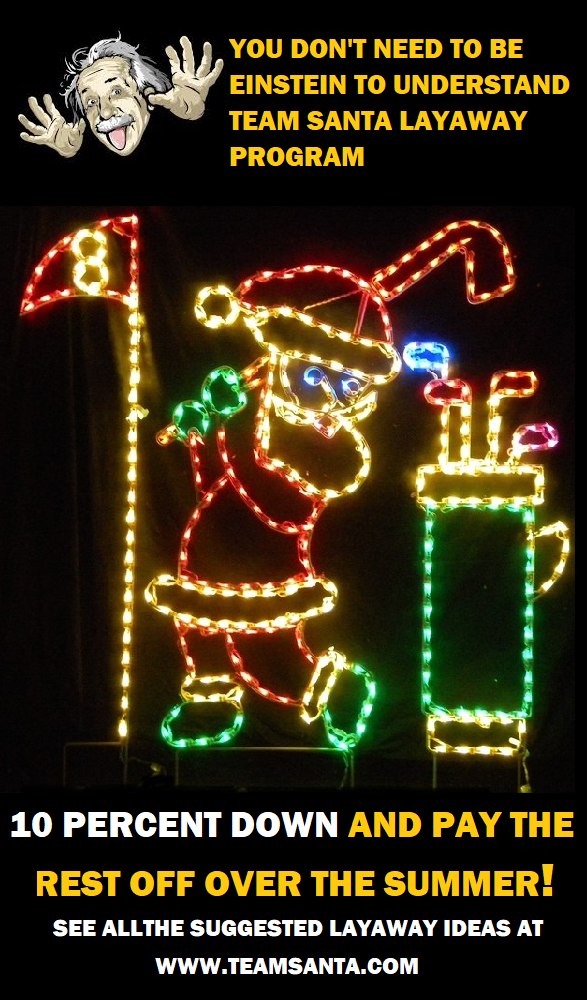 Layaway Idea: Pay Off Your Outdoor Lighted Decorations in Five EZ payments & Get Free Shipping Too
Santa Claus Golfing LED Lighted Outdoor Christmas Decoration
3 Piece Set
Item Number: 300GSS
Price: $429.99
You can order it right now for $35 deposit and then $62 a month for five months. Free shipping the week of Nov 01, 2018.  0% Interest
Your Golfing Santa ships to you free inside the continental US the week of November 1, 2018. 0% Interest. 5 monthly payments of $62. It's a much better deal than your credit card company. The credit card company charges you interest just to pay over time. Team Santa Inc. does not do that. So there is a refreshing fiscal alternative for the friends of Team Santa Inc. If we can help make shopping less fiscally painful, we will get there for you.
Support our troops and the planet too. God bless America.
Happy Decorating!
-Team Santa Inc.
www.teamsanta.com

A Team Santa Inc. Web Store
Please feel free to share and re-tweet our posts!

Team Santa Inc. All Rights Reserved World Wide 2018