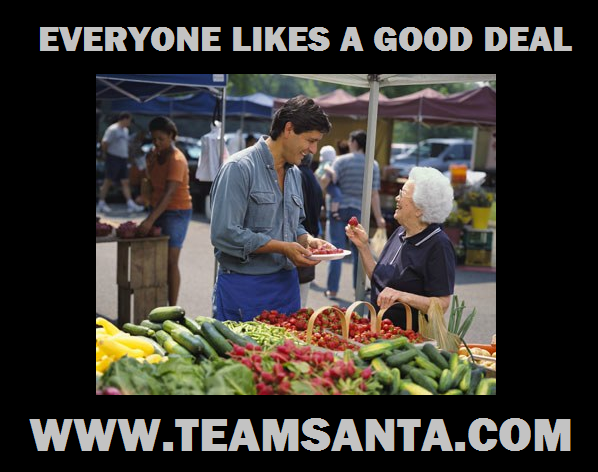 Slam Bam Save Money With Sam – Haggle Your Way To Huge Savings
hag·gle

dispute or bargain persistently, especially over the cost of something.

"the two sides are haggling over television rights"

synonyms:

barter

, 

bargain

, 

negotiate

, 

dicker

, 

quibble

, 

wrangle

; 

More

noua period of persistent bargaining.
Greetings Decorating Enthusiasts –
Welcome back to another edition of the Team Santa Inc. News Daily. Quickly, I would like to remind everyone that "haggling" is still going on at all Team Santa Inc. web stores. You can make an offer on your choice of over 15,000 assorted lighted Christmas trees, string lights and holiday decorations.
This year Team Santa Inc. has added approximately 4000 new products in addition to its already comprehensive selection of Christmas trees, lights and decorations. When business picks up in a few weeks, Team Santa Inc. will begin to get flooded with "haggle" requests. In past years Team Santa Inc. has had to end the "haggling program".  So please heed this advice if you are looking at this year's product selection and you want to make a purchase. The heck with waiting for coupons, start "haggling" instead and you might make a good deal. You might be AWESTRUCK at the savings you get when you "haggle" with Team Santa Inc. at  the following web stores are currently still accepting "haggle" offers as of 10/03/18 –
I promise you will save a ton of cash if you heed this advice and get to a Team Santa Inc. web store before it gets too busy. My suggestion to everyone reading this post, that before you purchase your lighted tree, holiday string lights and/or Christmas decorations, you must go to the websites above. I promise that you will save a ton of cash. Now I must be off. It is starting to get busy at Team Santa Inc. and I cannot keep our customers waiting.
Happy Decorating!
Team Santa Inc.
www.teamsanta.com  😎