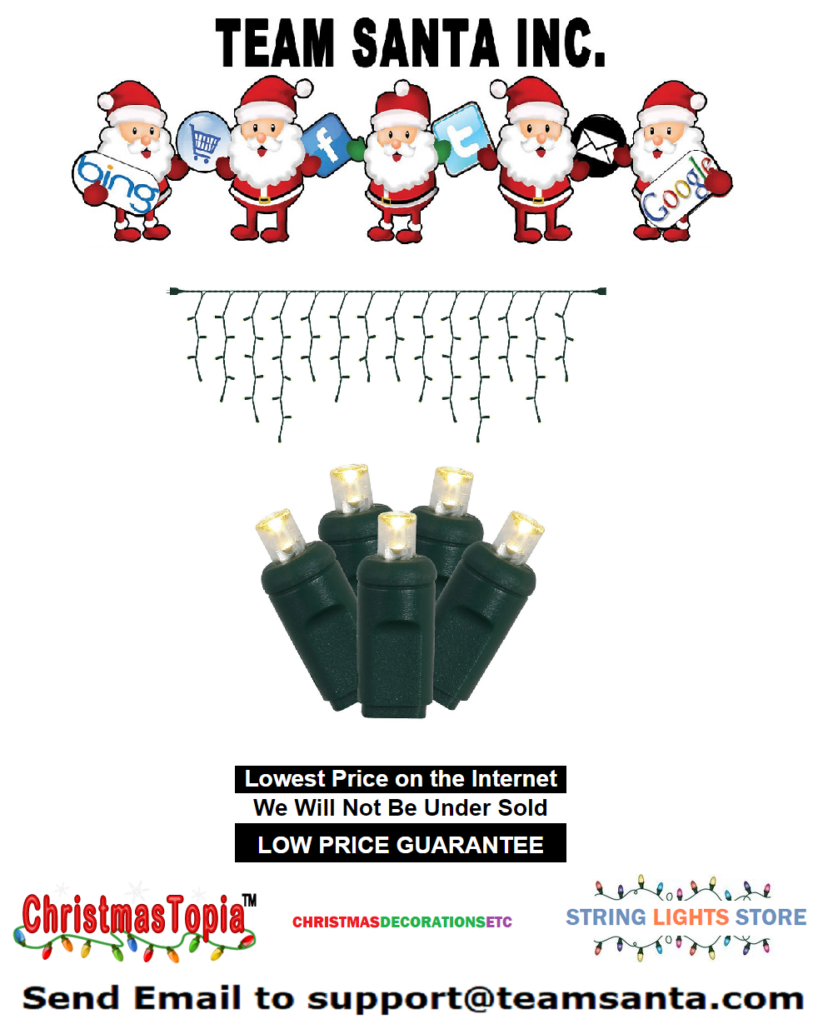 We Have Christmas Lights – Christmas Decorations – Artificial Christmas Trees – Christmas Ornaments – LED Christmas Lights and More
Welcome Decorating Enthusiasts –
Thank you for joining us today for the latest Team Santa Inc. blog post. In this featured post, it's our intention today to remind our users, how comprehensive and vast Team Santa Inc.'s selection of Christmas lights and decorations really is.
In addition to all the neat Spring and Summer string lights and decorations we have been showing you, let us not forget that Team Santa Inc. has over 11,000 "in stock" holiday and seasonal Christmas lights and Christmas decorations, all available for immediate delivery. Of the 11,000 + product listings, 2,465 are new for this year and are being listed for the first time in our holiday decoration catalog.
Tons of Christmas Lights, Christmas Decorations, Artificial Christmas Trees, Christmas Ornaments and of course LED Christmas Lights, all for your decorating convenience. Regardless, of the color of your display, Team Santa Inc. has a delightful selection of LED string lights and Christmas decorations in a rainbow of different colors such as amber Christmas lights, so there is always something brand new for our visitors to look at.
Right now, your mind is probably a million miles away from the Fall holiday decorating season and your holiday display. However, the next time yincandescent Christmas lightsp by a Team Santa Inc. website, try to get a glimpse of some of our 2022 selection of Christmas lights and decorations. It's impossible to see the entire selection of products in one visit, so when you get to your favorite Team Santa Inc. website, be sure to "add bookmark" to your list of favorite websites. This way, you can find us anytime you need to, before the official holiday decorating season begins. When stopping by, please try to remember to send an email to support@teamsanta.com, if you should have any questions, comments or concerns. Heck, you can just send us an email to say "Hi" or "Hello". You are guaranteed to get a friendly response from a member of the Team Santa Inc. customer service team.
No matter if your order is big or small, or if you have no order at all, you can always be certain that you will be treated the same with dignity and the respect that you deserve as a customer of Team Santa Inc. Our customer service staff at Team Santa Inc. is really dedicated to your satisfaction and it shows. Just reach out to Team Santa Inc. and see for yourself why the reviews you read online about Team Santa Inc. are always so positive. At Team Santa Inc., your satisfaction is paramount to us and those who patronize come to always find that out.  So, until next time, be sure to visit your favorite Team Santa Inc. website and see for yourself why customers all over the world, have such nice things to say about Team Santa Inc.  We'll get back to you shortly, with another blog post.
Until then, happy decorating everyone!
Kind Regards,
Team Santa Inc.