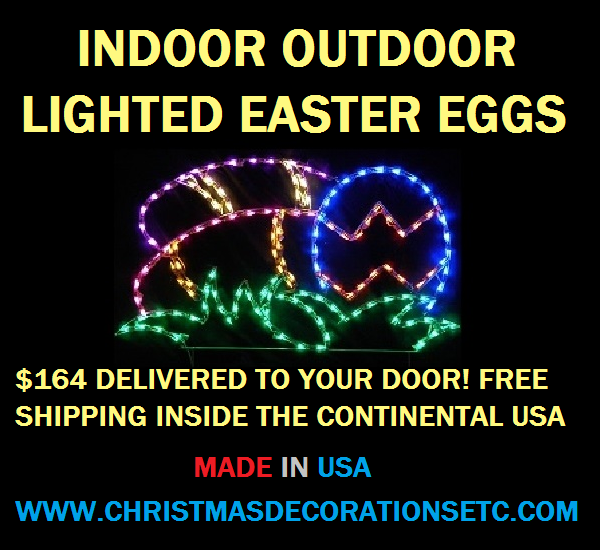 Stellar Deal Here: Lighted Indoor Outdoor Triple-Egg Easter Decoration
Hello to all of you decorating enthusiasts out there!
I have some great news to share with you. It's April and that means winter is out of here and Spring is in. Spring is a wonderful time of year and plays host to one of the most important holidays of the year, which of course is Easter. Today's product introduction is an adorable LED lighted wire art frame of three colorful Easter eggs. The decoration is indoor/outdoor one piece and comes with posts for sinking the decoration on the front lawn. Very colorful with five different colors of LED string lighting pre-installed on this sturdy, high quality decoration.  Be sure to check out our other great lighted outdoor Easter decorations. Free shipping on every decoration inside the continental USA.  Get a 10% discount by using the coupon code currently available at the website. Let Team Santa Inc. Help you decorate your home or business during the spring time holiday season.
‎Happy Decorating! 😎
-Team Santa Inc.
www.teamsanta.com