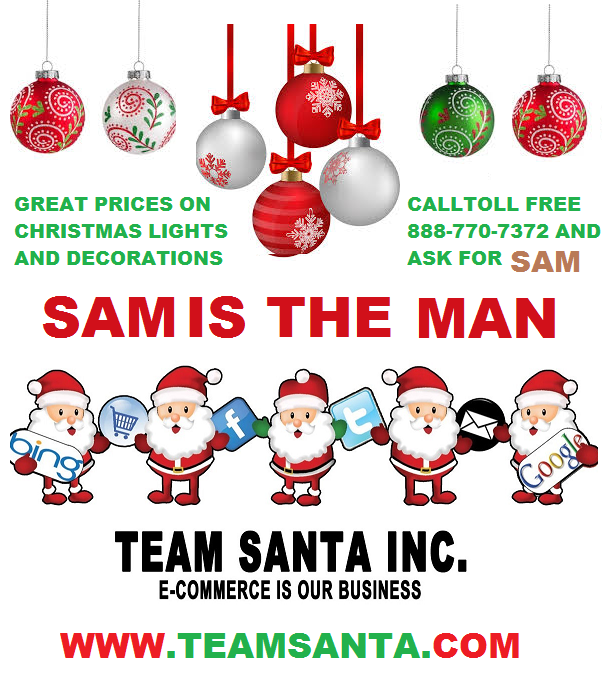 Meet Sam Bartolo – Sam is The Man Who Knows Holiday Decorating at Team Santa Inc.
Greetings Decorating Enthusiasts –
Welcome back to another edition of the Team Santa Inc. News Daily. Today, our post is all about Sam Bartolo. Sam is the
general manager at Team Santa Inc. and he manages most of the customer service matters for the Team Santa Inc.  You will often find Sam on the other end of an email message when communicating with Team Santa Inc. He is totally obsessed with customer satisfaction. Sam welcomes you to give him a chance to help you with your holiday decorating this year.
Sam claims to have work for Santa Claus and he knows tons and tons about holiday decorating. Sam is always willing to share his knowledge of decorating for the holidays for FREE any time you like. Just go to a Team Santa Inc. Web Store and send an email to support@teamsanta.com and ask to speak to Sam. If he is not on the other end of the email message already. If not, just tell the Team Santa Inc. representative that you want to speak with Sam exclusively. Additionally, if by chance, you are not happy about any part of your shopping experience, PLEASE tell Sam. Sam enforces our company culture that is the "customer is always right".
You will absolutely like Sam and we know for sure that if you request his help, he will work his butt off to make you happy. Stop by one of Team Santa Inc. Web Stores and ask for Sam to help you. Then you be the judge. There are over 15,000 LED Christmas lights and Christmas decorations on the Team Santa Inc. Web Stores. Sam can help you with each and every one of them. Ask for Sam. You won't be sorry! 😎
Until the next time,
Happy Decorating!
Team Santa Inc.
www.teamsanta.com
‎