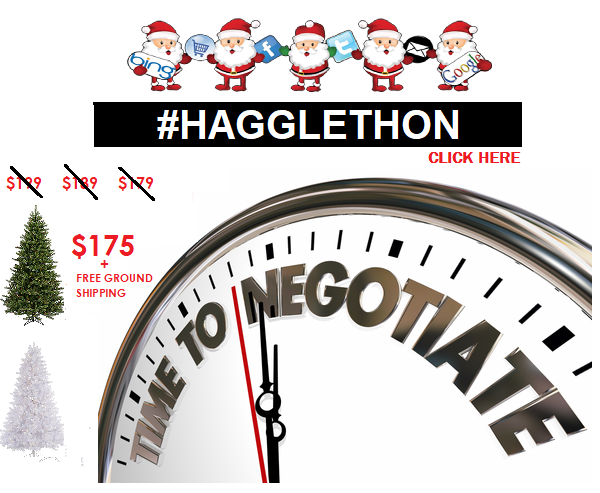 #Hagglethon, Low Price Guarantee Save Money On Christmas Trees, Lights, Decorations, Giant Christmas Ornaments
Many of us have yet to put up our Christmas tree and the clock is ticking. Christmas will be here in 19 days. So now at all Team Santa Inc. web stores, you will be pleased to learn that we are
conducting our first annual #Hagglethon. Our #Hagglethon is an extension of our very successful Haggle program. Several years ago we introduced the Haggle Program as an incentive to save
money for our customers. It caught fire immediately. All products on our websites are negotiable. You make your own offer. Heck, you'll think you're are at an online flea market on a Saturday afternoon. Haggling became a popular way for Team Santa Inc. to offer consumers the lowest price possible on Christmas trees, string lights, lighted outdoor decorations and Christmas ornaments. Since then, more advanced systems and procedures have been internally implemented and upgraded, in an effort to accommodate the thousands of haggle requests we get every year. The Haggle Program saves our customers a boat load of money, every single day. This is great news for all consumers. You can shop the #Hagglethon until December 20, 2019 and always pay the lowest possible price on your favorite holiday decorating products. Amazon, Overstock, Wayfair, Google, Walmart, Target; forget about all those guys, because if you haggle with Team Santa Inc., you get the lowest price guaranteed anywhere on the Internet. Both #Hagglethon and our Low Price Guarantee. So get on board and stop paying full price this holiday season. Save some money for other stuff. Come to a Team Santa Inc. website and join us for our #Hagglethon and Low Price Guarantee.