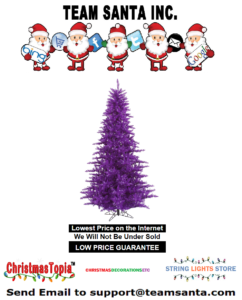 Artificial Christmas Trees Come In All Different Sizes, Styles and Colors Both Prelit and Unlit Trees
Good day to all the decorating enthusiasts out there who loyally read this column. The Thanksgiving holiday will be upon us next week and that means the holiday decorating season has begun.
For some folks, their displays are already up and as bright as can be. The rest of us will start our projects either this week or next. Some people will wait until after Thanksgiving to start putting up their  Christmas trees are up. This year we also have great  lighted decorations for Hanukkah. A menorah and a dradel, both delightfully colorful in blue and white, the colors associated with Hanukkah.
We want to share our artificial Christmas trees with you. Not only do the trees come is all different sizes, but they are available either with lights or without lights pre-installed on the Christmas tree. We also carry a selection of trees in "Fashion" colors. Not only do we carry a silver Christmas tree, for all the retros out there, we also have artificial Christmas trees in red, gold, green, blue, etc. It's so cool. Kind of retro related to the different colors of tinsel which make up the Christmas tree. We even have a scary black artificial Christmas trees in both pre lit and unlit variations for Halloween. It is so cool that it's spooky!  Anyway they make fantastic Halloween decorations, festooned with both purple and orange Christmas lights pre-installed on the tree.
If you can just click or tap on over to our website, we have a selection of over 2000 artificial Christmas trees both lit and unlit. Our prices are the lowest. Simply enforce our Low Price Guarantee. You could trust Team Santa Inc. to make certain that we offer you the lowest price available anywhere, regardless the time of year. Heck, we dare you to find a lower price than at a Team Santa Inc. website. Don't forget to bookmark this blog so you can take advantage of all the deals and promotions we run.
Until you read our next article on the Official Team Santa Inc. Blog, happy decorating!
Team Santa Inc.