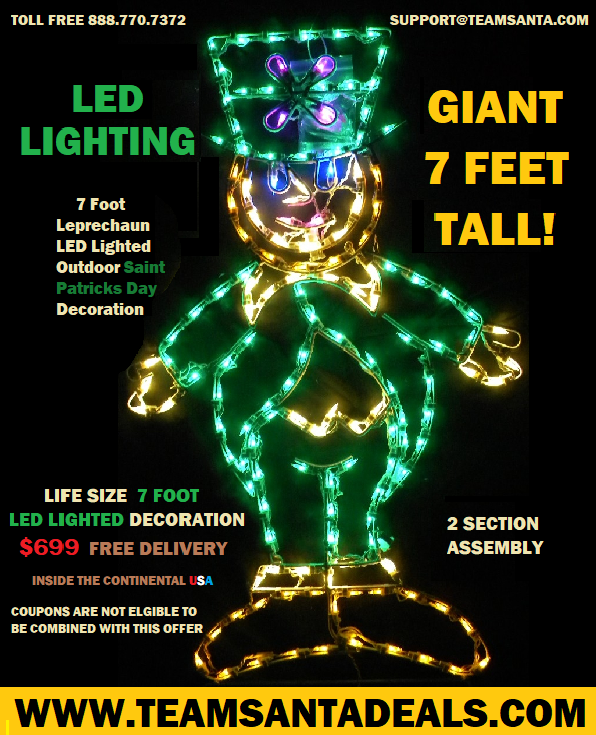 Deal 010 Is An Indoor Outdoor Lighted  Giant Leprechaun With LED Lights That Beam Erin Go Bragh
Greetings Decorating Enthusiasts –
Have we got a great deal to share with you! Deal 010 is truly inspired by imminent Saint Patrick's Day Irish celebration only a few weeks away.
In celebration of this traditional Irish festivity,  we have created a 7 foot LED lighted Leprechaun.
What am I supposed to do with a 7 foot LED lighted Leprechaun?  Do you have an Irish theme restaurant or pub that you want spice up this year? Is your business in need of a hefty dose of Irish heritage? Why not add a giant leprechaun to your Saint Patrick's Day decorations. Our giant Leprechaun stands a massive 7 foot tall and can be used both indoors and outdoors. LED bulbs mean it hardly uses any electricity at all and the bulbs are a special Irish green to help accentuate the brilliance of this very special product. The giant Leprechaun will set you back $699 delivered to your door inside the continental USA. Free shipping via FEDEX.COM.
Use this giant lighted decoration outside your restaurant standing next to your menu. How about the entrance to the local Irish pub in town. Picture a 7 foot lighted Leprechaun on the parade route. Made from high quality steel right here in the USA. You will get a product that you will be proud to show off.
If you want to order the giant lighted Leprechaun, you will need to do it quick. We can only make a limited quantity.  Before you know it Saint Patrick's Day will be here! You can place your order on Teamsantadeals.com while supplies last.
Thanks so much for taking the time to read our most recent posting on the Team Santa Inc. Blog.
Support our troops and the planet too. God bless America. Team Santa Inc. All Rights Reserved World Wide 2018
Happy Decorating!
-Team Santa Inc.
www.teamsanta.com

A Team Santa Inc. Web Store
Please feel free to share and re-tweet our posts!