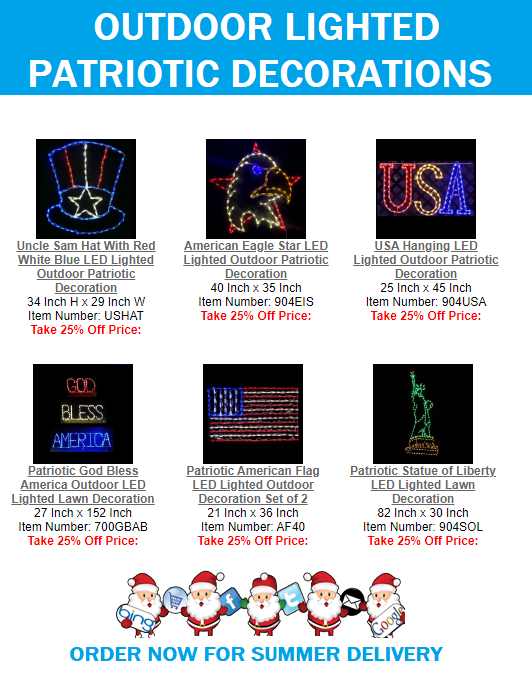 Welcome back decorating enthusiasts! Today we have something incredibly amazing to tell you about. Memorial Day is approximately 6 weeks away and before you know it we'll be celebrating the founding of the U.S.A., with our  American made outdoor lighted patriotic decorations.  We have absolutely everything that you need to light up your Memorial Day evening celebrations, parties, events, etc.
We have a selection of lighted American flags, lighted outdoor USA sign, Uncle Sam with top hat. We also now carry illuminated patriotic bunting to further demonstrate how proud we are to be Americans. Outdoor lighted Patriotic Decorations and string lights all on sale at this time at 25 PERCENT OFF using the current promo code available on the websites.
American made lighted outdoor decorations are for use on your home or your business. Use them both indoors or outdoors. Low voltage LED bulbs are pre-installed, so our decorations always stay cool to the touch.
We have so many different lighted outdoor Patriotic decorations this year to pick and choose from. Many of the decorations are made in America. Over 10,000 seasonal decorations in our comprehensive collection of lighted Patriotic decorations.
Until next time, happy decorating!
Kind Regards,
Team Santa Inc.