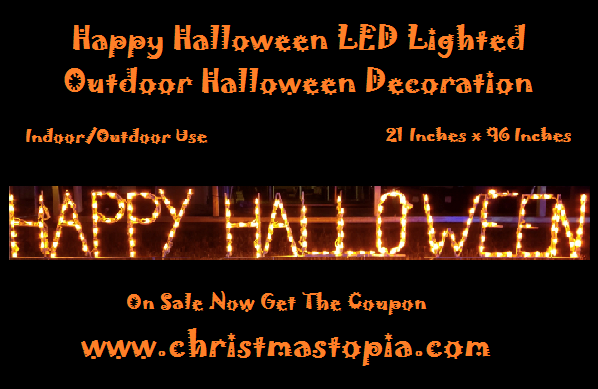 Say Happy Halloween With This Deliciously Creepy Lighted Outdoor Decoration
Welcome everyone to the latest edition of the Team Santa Inc. News Daily. Are you starting to see the spirits of Halloween up and down your neighborhood yet? Well I have something really neat to show you that you can add to your Halloween decorations display. Has anyone taken a peek at our Happy Halloween LED Lighted Outdoor Halloween Decoration? This Halloween prop measures 8 feet wide by almost 2 feet tall. This spooky lighted sign will show everyone on the street that you are indeed a Halloween decorating enthusiast. With LED lighting pre-installed on the steel frame sign, this Halloween decoration is sure to attract the ghosts and goblins in your neighborhood. The lights are pre-installed using these really cool plastic clips that keep all the mini lights pointing in the same direction. You can see this lighted Halloween decoration from over 200 yards away. Use the Halloween sign on your front lawn, or hang it on the outside of your home or business. That's not all! Not only is this an outdoor Halloween decoration, but you can use it indoors too. It's an excellent option for those folks who want to add an extra visual element to their store merchandising display. Looks doubly creepy in a family style restaurant, pub, bistro or any other type retail business that's looking to add some Halloween scare to their lair. The lighted Halloween decoration is eligible for the Team Santa Inc. free shipping promotion for orders that are shipped within the continental US. Get the coupon code for an extra 15 percent off the retail price. Free shipping plus 15 percent off if you order now. Orders for this product are shipped in 48 hours via FEDEX 3-5 day service. Stop by and say hello! Just send an email to support@teamsanta.com and we will get right back to you. Team Santa Inc. will help you with orders big and small or even if there is no order at all. Well everyone, I'll see ya next
week! Until then, happy decorating.
Kind Regards,
Blitzen @ Team Santa Inc.
www.teamsanta.com
😎