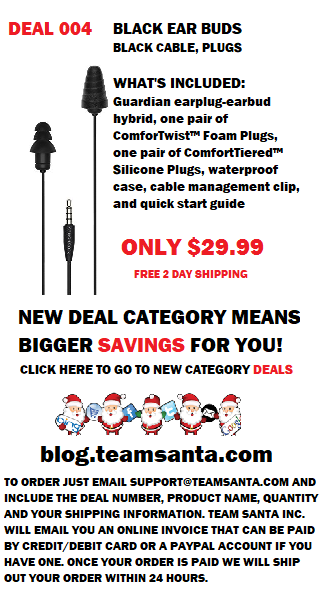 DEAL 004
Incredible Ear Buds So Smooth & Comfortable Fit Perfectly In The Human Ear Order Now
Ear Buds are somewhat of a personal product which is exclusive to the person who owns them. Of course you want your ear buds to sound the best that they can, but you also want them to fit snugly in your ear without the possibility of falling out. More importantly ear buds need to be comfortable. So comfortable, that you almost don't feel them at all. Just slightly, so you know that you have something in your ears.
We are so excited to inform you that we have found by total accident the most phenomenal set ear buds ever created for your smart phone. The ear buds are ultra comfy for your ear and they sound absolutely terrific. Team Santa Inc. can't wait to spread the joy! We have them in the color black and they are in stock for immediate delivery.
To use them, all you do is insert each ear bud directly in the ear. Then plug the ear buds in to your smart phone and start listening. There is never a need to push the ear bud hard or push it more than once, in an effort to secure the ear buds in your ears. The ear buds have a special patented, rubberized plastic that provides for a non slip surface so the ear buds won't slip or fall out of your ear. It feels like you have a marshmallow in your ear. They are very comfortable and stay in your ears without ever falling out until you take them out. The ear buds come in a beautiful case so you can use it to store the ear buds when you are not using them.
Team Santa Inc. only sell products that we are comfortable recommending to our customers. Team Santa Inc. recommends products that have been used and/or tested by representatives of our company and meet our stringent quality requirements.
If you want to add music and/or books for your listening enjoyment, then you need a good pair of ear buds. Good ear buds do not have to cost a lot of $$. Our phenomenal ear buds are only 29.99 and include FREE shipping inside the continental U.S. Never will you derive so much enjoyment for so little money ever again. 😎
You can order these phenomenal ear buds right here. Send email to support@teamsanta.com and in the message please include "DEAL 004" in the subject line along with the quantity and shipping information in the body of the message. Team Santa Inc. will then email you a secure online invoice that you can pay using a credit/debit card or a Paypal account if you have one. The transaction is entirely secure. If you would prefer to order on the phone, then just call Team Santa Inc. toll free 888-770-7372 and speak to a representative.
One more thing. If you listen to music and/or books on your smart phone, you need to get yourself a pair of these high quality ear buds while supplies last. We PROMISE you will be glad you did.
Until the next time, Happy Listening!
Happy Decorating!
-Team Santa Inc.

A Team Santa Inc. Web Store
Please feel free to share and re-tweet our posts!