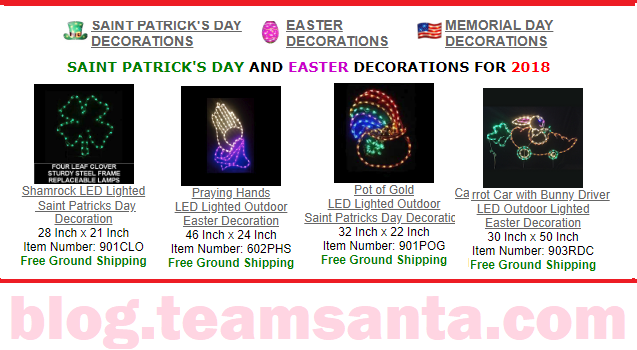 Say Goodbye to Winter and Hello to Easter and Saint Patrick's Day Decorations
Greetings Decorating Enthusiasts –
We are enjoying unusually warm weather here in NJ. The month of February is usually for the most part very cold. Mother Nature has decided to bless the northeast with warm weather today and tomorrow.
So today is the day we Say Goodbye to Winter. Spring will be here in less than a month. Start thinking about doing things outside again as the weather gets warmer.
We have Easter and Saint Patrick's Day Decorations that are very cool for the outside of your home, house or even your business too. A great example would be our Lighted Shamrock. If you own a pub or a related type business, you are going to want to promote Saint Patrick's Day. The LED lighted Shamrock would look great right at the center of the bar. The Shamrock had LED lights so it uses hardly any power at all. They also stay lit if a bulb burns out, so that's big too. There are so many different things you can do if you operate a pub, bar or restaurant.
Have you had the opportunity to see the Happy Easter Sign that we have. Now wouldn't that look awesome hanging over your garage or on your railing? Maybe hanging off the deck? Hang it right out the window on your house and plug it in inside the house. This way you can turn it on and off easily.
This year our selection of lighted decorations for Easter is delightful. You get to choose what colors you want on your decoration. You can really customize your holiday decorations to your own taste.
Our selection of decorations for Saint Patrick's Day is smaller but you get to select the number of leprechauns you want on your lighted decoration. If three leprechauns dancing is too much $$, then tell us how many leprechauns you want included with your decoration and we'll do it.
Thank you so much for taking the time to read this article. You are really terrific.  We know your busy, so we sincerely appreciate the time you took to read our content.
Until the next time, Happy Decorating!
-Team Santa Inc.
CALL TOLL FREE TO ORDER 1.888.770.7372


A Team Santa Inc. Web Store
www.christmasdecorationsetc.com

Please share and re-tweet our posts!