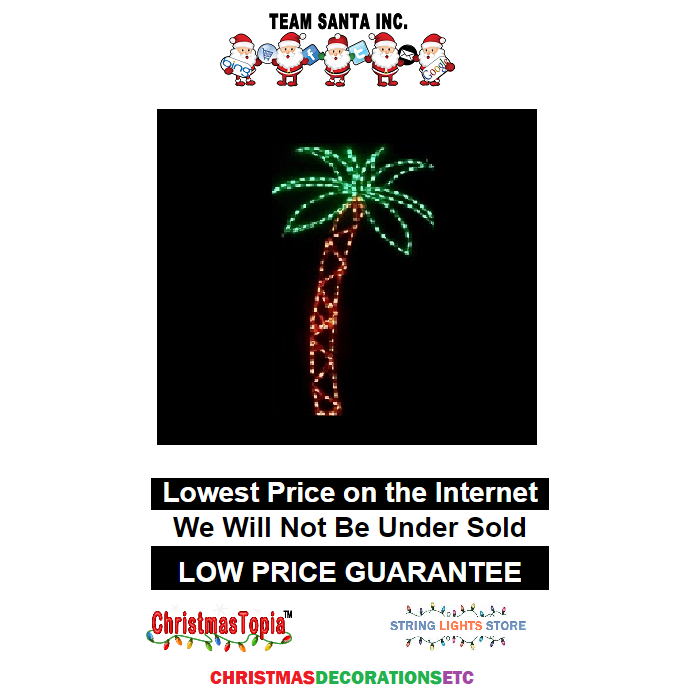 Lighted Outdoor Palm Trees For Your Evening Celebration Look For Those Made In The USA
Each mini light bulb, (and there are hundreds) are secured to the solid metal frame using plastic light clips, that we also sell separately. You just snap the light bulb into the plastic light clip and the clip holds the bulb securely in perfect position on the frame. If done correctly, the light bulbs clipped on the frame, all should point in the same direction. This will have tremendous impact on the way the decoration appears at night. The uniformity of all the bulbs pointing in the same direction better defines the frame, making the lighted palm tree decoration visually more appealing, than if all the bulbs are going in different directions, which is often the case with the lighted wire frame yard decorations.
The quality of the products in this selection is absolutely phenomenal. Definitely unsurpassed. You will be happy to learn that if one light bulb goes out, the rest of the bulbs stay lit. This is a very important feature, because you don't  want to have to purchase replacement light strings, just because a bulb or two went dark. It's always a good idea to change the dark bulb ASAP to equalize the electrical current being distributed to the other light bulbs on the string.
Now is a good time to place an order. At this time we are having a Springtime Savings Event where you get a coupon code for a discount. If you visit us soon, you will be able to purchase one of these lighted palm trees before they sell out. Every year the lighted palm trees sell out and this year should be no exception.
Please come visit us and check out the lighted palm trees. New items have been added to the selection and even if you don't order, just come by and check out our selection. You can trust Team Santa Inc. for all your lighted decorations year round. No website provides the customer experience like Team Santa Inc. and our Low Price Guarantee speaks for itself. Team Santa Inc. also has a haggling program as well as the internet's only Layaway Program. We know your busy, but if you have some time, please visit our lighted palm tree selection available online.
Until we meet again, have a fabulous weekend.