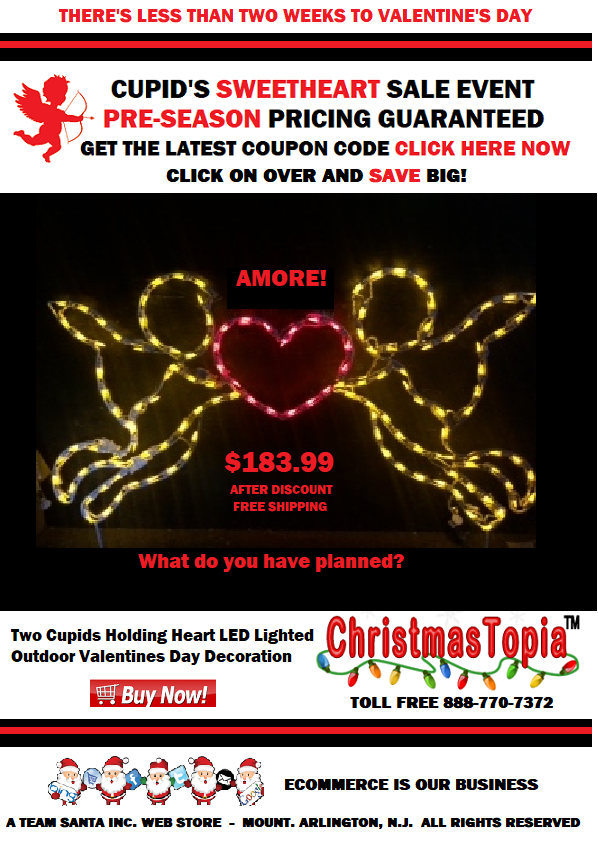 There's less than 2 weeks to Valentine's Day! What do you have planned? #valentinesday #flowers #love #relationships
Lighted Yard Art
An Exclusive High Quality Wire Frame Lawn Decoration
Durable Construction
Made in the USA
LED Light Technology – If one bulb goes out the rest remain lit
Bulb Type: LED M5 Mini Ice Lights
Wire Color: White
Christmas Light Set
String Light Set
A/C Operated
UL Listed for Indoor and Outdoor Use
0.25 Inch Steel Frame
Dipped in Enamel to Protect Against Rusting
Extra Support Required for Items 4 Foot and Up (not included)
Some Assembly Required
Most designs are available in most colors. Ask Team Santa which color options are available for each wire frame decoration.
Use for Events such as: Holiday, Easter, Weddings, Showers, Spring, Mothers Day, Everyday

CALL TOLL FREE TO ORDER 1.888.770.7372

A Team Santa Inc. Web Store
Please share and re-tweet our posts!