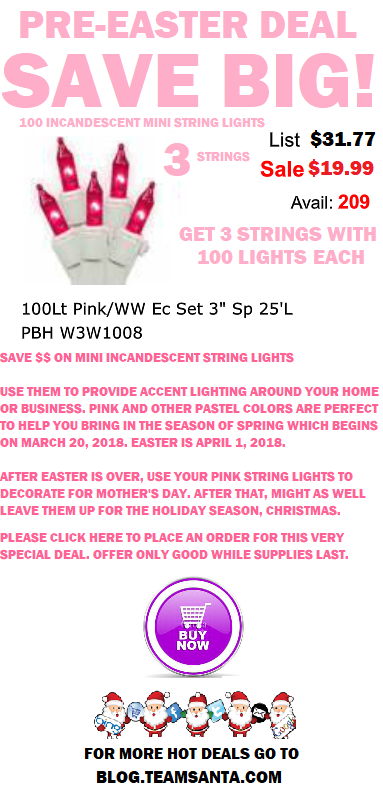 Get 100 Pink Incandescent Easter String Lights White Wire For Less Than 7 Bucks a Pop
Greetings Decorating Enthusiasts –
We would like to take our Word Press landscape further today and introduce to you Team Santa Inc. Deal 007 which is 3 100 Count Pink Easter String Lights, White Wire for the Easter decorating season.
Click here to order your 3 pack for 19.99 plus $10 ground shipping. You get free ground shipping if you order 12 strings of Easter lights for $80.
This year Easter is earlier than in years past. This year Easter is on April 1, 2018. It's about 5 weeks away. That's pretty close. For those decorators who like to decorate for the Easter holiday we recommend Deal 007 because you get 3 sets of 100 Count Pink Incandescent String Lights, White Wire. You can use it to decorate for Easter, Mother's Day then use it again for the Christmas holidays 2018. Think about all that usage for $6.66 each string. It's a good deal folks.  You can get a lot of mileage out of the pink string lights if you just think about it and plan your display ahead of time.
Pink is a lovely color to use during the Easter decorating season. Pink is so easy on your eyes too. So much easier than the traditional red, green, gold colors.
Our Easter Deal 007 is a phenomenal value.  Get each box of 100 pink string lights for a very cost conscious $6.66 each. Save over 4 bucks a string off every day prices. This is real money people!  Our suggestion is to order quickly because these pink string lights will sell out WAY before the Easter holiday.
Don't be surprised if the Easter bunny shows up at your house this year! 😎 That Easter bunny is a crafty little bugger. He usually shows up at the homes and businesses that put up Easter string lights and Easter decorations. So if YOU want to possibly meet the Easter bunny, for starters we suggest you order Deal 007.
If you would like to order by phone just call 888-770-7372 and speak to a Team Santa Inc. representative. Until the next time, keep on decorating.
Happy Decorating!
-Team Santa Inc.

A Team Santa Inc. Web Store
Please feel free to share and re-tweet our posts!